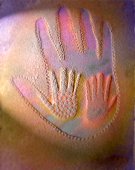 As we connect our hands, within His hand, we will be well taken care of.
We can all experience the blessings of close fellowship as we grow closer to our Lord Jesus through Bible study and prayer.
As stated in our mission statement we value and encourage everyone to be involved in a home fellowship. In agreement with Hebrews 10:24-25, we encourage developing mentoring relationships knowing that we grow when we are encouraged and challenged by someone we know loves us. Our groups will aim to be a place for people to be healed, comforted, learn and make mistakes. We desire to be a safe and loving environment for people to feel like they belong.
It is my desire to see everyone participating in a Home Fellowship. Please find one that you can join. As we grow as a fellowship we will add more home groups to meet the needs for everyone.

Hazel Kruse (Gizzy is our coordinator for Thursday Evening Home Groups, please contact her to find out about this week. You can find her contact information by selecting Thursday Home Group on the events page.