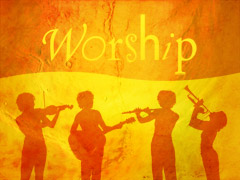 Gina Jones leads this team of individuals who are dedicated in leading worship with excellence! This ministry is about giving God your best.
If you are a vocalist, musican or someone who just loves to praise and worship, please talk to Gina about being a part of this impactful ministry.
Rehearsals are on Sunday before service at 3:45pm
To Worship is to quicken the conscience by the holiness of God, to feed the mind with the truth of God, to purge the imagination by the beauty of God, to open the heart to the love of God and to devote the will to the purpose of God.
William Temple